Microsoft's suite of business tools is widely adopted and can be found in almost every workplace. Common programs like Word, Excel, and PowerPoint are essential for a productive day of work. When everyone uses the same tools, collaboration is easier. However, there are more Microsoft productivity apps that you could leverage in your day-to-day.
But aside from these ever-present staples, Microsoft also offers a variety of apps that have gone overlooked and underused in many offices. These apps offer integration between each other and the more common Microsoft programs, so they can work together in an agile way and smooth the processes of your day-to-day work.
We spoke with Andrew Robertson, Prime Secured's Microsoft Solutions Architect, about the advantages of these lesser-known tools.
"No one else has as big an enterprise ecosystem as Microsoft," Robertson told us. "It's really not out there. The overwhelming majority of businesses use Microsoft products already. Most of these applications are already included in their Microsoft 365 subscription. They're already paying for the apps and don't even know they're there!"
In this blog we'll be introducing you to the five most powerful Microsoft apps we believe are being underused by many businesses.
1. Microsoft Teams
Similar to Slack and other instant messaging apps, Microsoft Teams allows members of your organization to easily communicate throughout the day. Different channels can be created for different groups, so you can have focused discussions on individual projects. Whether you need to communicate through text, voice, or video, Teams can keep everyone in touch and up to date.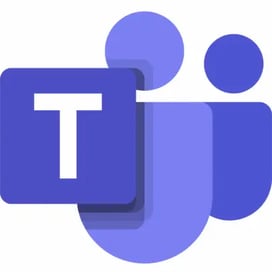 While many companies are already using programs such as Slack or Zoom to accomplish these things, those programs can't offer integration with programs like Word or Outlook.
For example, when integrated with an Outlook Calendar, Teams can quickly tell you if someone you're trying to reach has a meeting or a presentation scheduled, so you know when you can expect to hear back. Word and Excel documents can easily be shared and viewed in a much more agile way. If you're already using these programs in your company, Teams is likely the best possible messaging solution for you.
2. SharePoint
"SharePoint is Microsoft's answer to an intranet," Robertson explained. "It lets you access any and all information about the company that any employee would need."
SharePoint is a very flexible program that primarily acts as a tool for collaboration. When you create an intranet site for a project, your team can access documents, schedules, and many other points of data related to that project without needing to connect to a VPN to access them safely. "Its biggest advantage is centralization; everything filters in." Robertson said. "It's less confusing to have everything in one place."
It also helps team members keep in touch with each other. With the click of a button, you can add employees to mailing lists or keep them in the loop with announcements. Of course, it also integrates smoothly with other Microsoft applications. For example, you can easily view team conversations through SharePoint.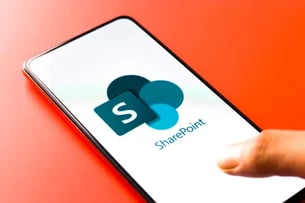 SharePoint is also very configurable, offering many different options so you can use the app in a way that matches what your business needs or even set it up to work with other programs. "The sky's the limit," Robertson told us, "Whatever you can imagine, you can embed into SharePoint."
3. OneDrive
OneDrive is a file storage solution similar to services like Dropbox. Each OneDrive user has access to a generous 1TB of storage that can be used to back up documents, images, and other files. You can easily control who has access to what documents and even set time limits on access. Those who do have access can get to their documents from any device, whether it's their laptop, phone, or just about anything with a web browser.
The main advantage OneDrive offers over other file storage solutions is—like many other apps mentioned in this article—its integration with other Microsoft programs. Word or Excel documents, for example, can be edited within OneDrive itself. That's perfect for times when you need to fix something quickly but aren't at your desk. You can even edit documents from your phone!
OneDrive also can feed documents easily into SharePoint, so you don't have to waste time and storage space uploading documents to several different places. It's a great option for companies that already use Microsoft's other tools.
4. Power Automate
Power Automate is—as the name says—an automation tool. You can configure it to take information automatically from one application and log it into a spreadsheet or database, or it can send automated messages based on specific parameters. The program is extremely flexible and can be applied in many different ways.
"For example," Robertson said, "If you get an email from your boss or manager and you don't immediately see it, Power Automate can trigger a ping in Teams and say your supervisor has asked you to do something. It can automatically log information into an Excel spreadsheet or even a Google spreadsheet. I use it for cybersecurity. There's always something new in the world of cybersecurity every day. You can use Power Automate to give you a notification when someone posts on Twitter and give you info upfront without even having to log into Twitter."
Power Automate does come with a set of templates that can be used to solve common problems, but the program's true strength comes when it's finely tuned to you and your business. For that reason, you'll get even more out of Power Automate by working with a technical expert like your managed services provider (MSP). They'll be able to identify ways Power Automate could save you time and stop things from slipping through the cracks, Then they can design custom templates that perfectly fit your situation.
5. Yammer
Yammer is a social network application, similar to sites like Facebook, that lets members of a company communicate internally. It's a perfect tool for when you want to make announcements to the whole company or a particular group of people, and it's a great tool to help your employees feel like they're part of the company community.
When you make announcements on Yammer, you get access to analytics you won't get from an email. You'll be able to see how many people have seen and interacted with your post, and your employees can contribute to the discussion as a group instead of responding individually. You can even set up polls to get quick data on how the people in your company or a particular department feel about something.
In an era where remote work is more common than ever before, something like Yammer can truly help to make your employees feel more connected. It can be used for day-to-day business, but it can also be used to celebrate employee birthdays or set up fundraisers.
"Many people have a Facebook account, but it's not really a good fit for internal business," Robertson told us. "With Yammer, a company can easily determine what's shareable or not. It can be locked down much easier and be as private as you like it."
The Power of Integration Makes a Difference
All the programs we listed can integrate with each other and with many other Microsoft programs, which is much more impactful than it might seem. Having easy access to documents, collaborating in real-time, and keeping your team updated on what's happening will make your business flow much more smoothly. Bottom line: It saves time and money.
There really is no other set of tools as complete and expansive as this. But many people don't take advantage of these programs because they don't know about them, or because it seems intimidating and time-consuming to set them up. That's where an MSP like Prime Secured comes in.
When you work with Prime, our experts can pinpoint exactly where these programs could be improving your business and fine-tune them so that they're giving you exactly what you need. You won't have to spend days figuring it out yourself. And that's only one benefit of working with Prime—we offer a wide range of security and technical solutions that give you all the power of a major IT department at only a fraction of the cost. Want to know more? Visit our Managed IT Services webpage.