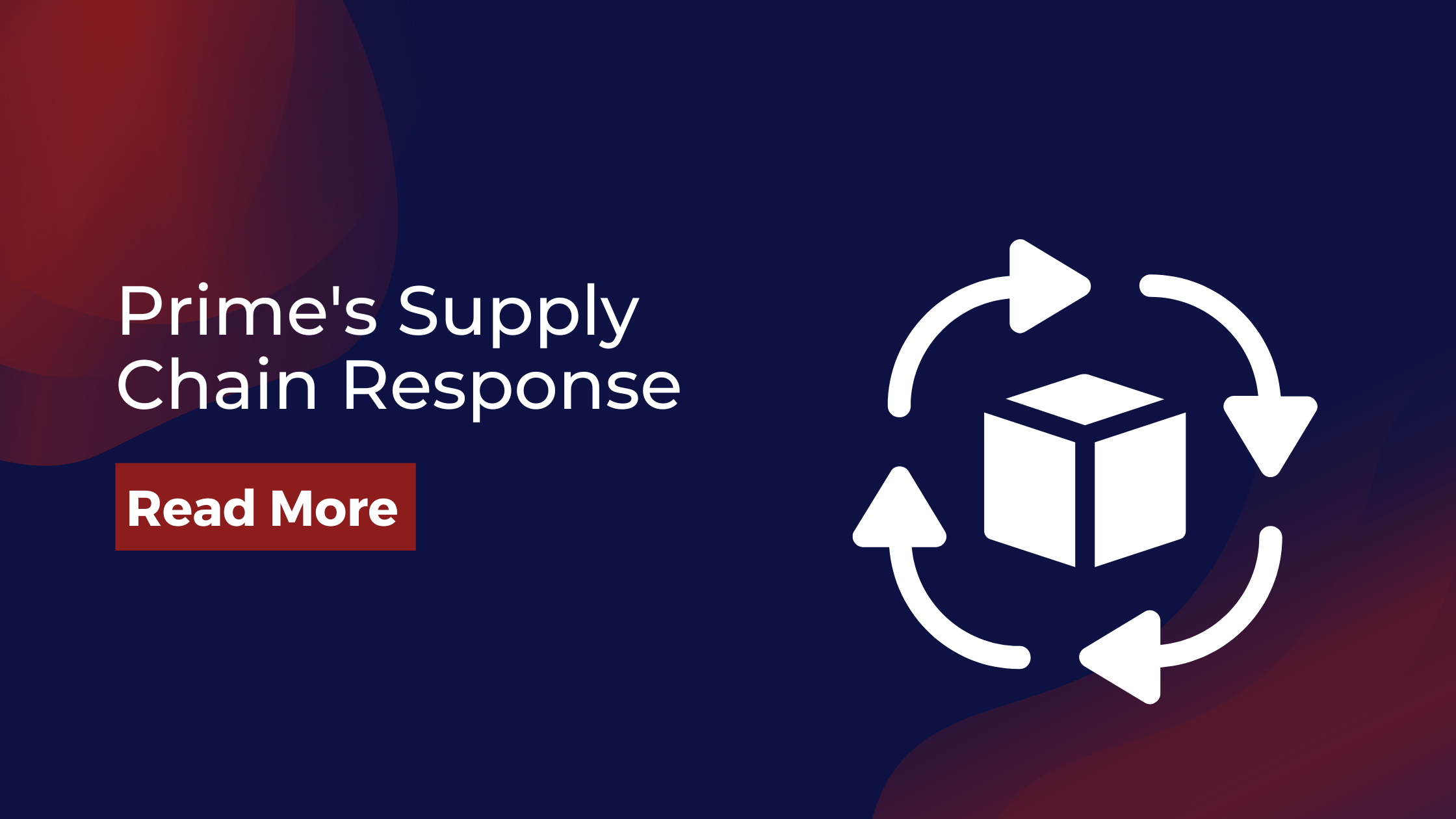 To Our Valued Clients,
Due to unprecedented market conditions, we felt it necessary to provide you with this notice regarding the current state of the global supply chain. We are sharing these updates in the hope that they will assist you in making important decisions. Please know Prime Secured is doing everything we can to combat the situation.
Unfortunately, the initial outlook for 2022 forecasts a decline in product availability before it can begin to show positive signs of product increase.
Causes of Current Supply Issues:
Strong global demand

 – The economic recovery has been much stronger than many expected, and many manufacturers made long term planning decisions months ago regarding inventory and staffing levels based on a more pessimistic outlook which did not come to pass.
Government and corporate response to COVID-19 crisis 

– Government stimulus has contributed to strong demand with $13 trillion committed globally. Corporations had laid off personnel and even shut down some facilities due to the looming COVID-19 crisis and many have struggled to return to pre-COVID levels due to loss of key talent and hiring challenges.

Transportation costs and distributions

 – Ports are struggling with backlogs, crude oil prices have increased, container prices have increased, and delays and pricing are increasing rapidly for LTL, ocean freight, and small package services.

Labor shortages and challenges 

– The COVID crisis has caused many labor challenges that are ongoing as manufacturers are short-staffed, struggling with higher-than-normal absenteeism, and utilizing a newer, less experienced workforce.
What Prime is Doing Today:
To meet installation deadlines, Prime departments such as Sales, Project Management, and Procurement are implementing the following:
Working collaboratively to offer solutions where vendor supply lines are being reduced.

Communicating more frequently on the status of projects and orders.

Actively pursuing alternate options on cameras, readers, and other equipment with our vendors.

Purchasing large stock orders on regularly used items

if available.
Prime continues to maintain constant contact with vendors and manufacturing contacts while reviewing new supply lines where possible. We are obtaining as much stock as possible in anticipation of upcoming projects.
What Your Organization Can Do:
For our customers, we recommend the following steps to stay ahead of demand:
Order product as soon as possible for approved projects. Along with longer product lead times we will also be seeing price increases from 10%-20%.

Submit 2023 budgets immediately and begin ordering upon approval.

On a case-by-case scenario, Prime will accept a verbal confirmation to begin ordering product.

Keep realistic expectations for lead times and project deadlines.

Reach out to your main point of contact at Prime for additional questions or concerns.
Please be assured that we are doing everything we can to obtain the necessary inventory. Please contact us if you have any questions about your project status. Until the price volatility changes, all quotations will be valid only for 30 days as we are unable to guarantee pricing for longer periods.  We appreciate your patience and collaboration as we work through these challenges together. If you have any specific questions or concerns, please do not hesitate to contact your Prime representative. We will continue to share information as the situation evolves.